<! defined in styles border removed 200x420px block remains > <! img src="images/cafe-press.jpg" alt=" cafe-press" width="200" style="position:relative;" />
<! end cafe-press > <! end cafe-press-button >
<! end left-module > <! end nav-bar >
Please print & fill out the form below:
By bringing the completed registration form with you to the work day you'll help us cut down on registration time and we can get out to the trails faster!
NPS Permission Form(new 2015)
Kennesaw Mountain Needs You !
The
Kennesaw Mountain Trail Club
(KMTC) is a group of volunteers dedicated to preserving the beauty & history of Kennesaw Mountain National Battlefield Park. Since our beginning in 2002, the Trail Club has contributed over
101,688 volunteer hours
donated by the public to enhance the trail system within the park!
Kennesaw Mountain topped the charts in 2016 as the most-visited Civil War battlefield park in the country! In 2014, Kennesaw Mountain NB Park had
2,360,256 visitors
far surpassing:
--Gettysburg 1,091,320
--Chickamauga/Chattanooga 1,027,738
--Fredericksburg/Spotsylvania 969,895
--Vicksburg 508,914
--Manassas 534,835
Since Kennesaw Mountain only has about 3,000 acres, the National Park Service allocates less money for upkeep and maintenance. The park staff does not have the budget or the man-power to maintain 20+ miles of trails and they depend heavily on the Trail Club to provide almost all maintenance activity.
We hope to see you at a work day soon!

If you are wondering what your volunteer hours mean to Kennesaw Mountain National Battlefield Park, then the chart below put it into images. The chart shows the value translated into dollars, of our volunteer's hours since 2002 as of 30 September 2017..


<! img src="images/value_of_hours.png" border="1" /> <! img src="images/value_of_hours_11-1-2013.png" border="0" width="710" align="right" /> <! img src="images/blank_space.png" border="1" width="710px" height="10px" align="right" /> <! img src="images/2015/ktmc-value-2014-688.jpg" border="0" width="688" align="right" /> <! img src="images/2015/ktmc-value-2015A.jpg" border="0" width="688" align="left" />
Value of Trail Club Hours to NPS(2017 reflects months lost due to weather)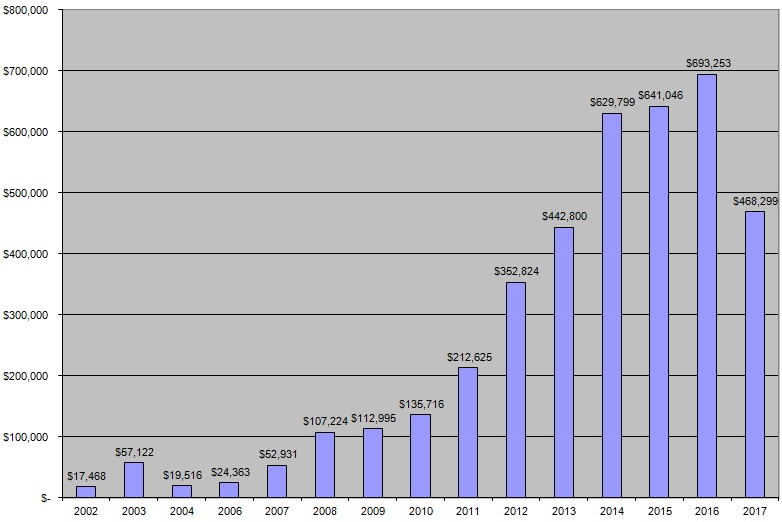 <! img src="images/2016/ValueOfVolunteerHours2016.jpg" border="0" width="710" align="right" /> <! img src="images/ValueOfVolunteerHours2016.jpg" border="1" align="right" width="710" />

<! img src="images/2015/ktmc-hoursasof2014-688.jpg" border="0" width="688" align="right" />